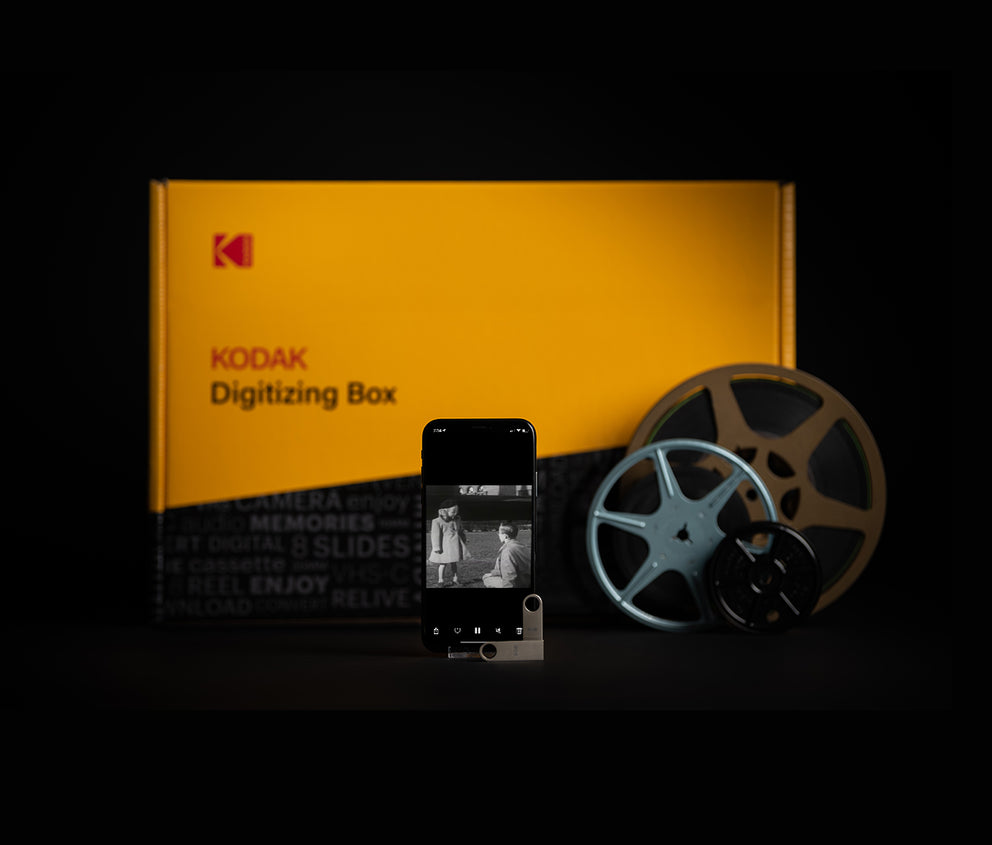 Transfer 16mm Film to DVD
What's included
What we digitize
Includes welcome guide with instructions, barcodes to tag your items, shipping box, pre-paid UPS® return shipping label and all digitizing.
All formats are carefully digitized by hand, right here in the United States.
Receive regular email updates throughout the whole process.
Approximately 10 - 12 week turnaround once we receive your KODAK Digitizing Box.
Each KODAK Digitizing Box is good for up to the number items specified in the size selector section. 
Includes extra safety barcodes in case you have more media you'd like digitized. We'll invoice you for any add-ons once we receive your media.
Includes complimentary Digital Download access to your files for 30 days.
Select how many items you want digitized
Need physical copies? (optional)
Includes digital download access for 30 days
Thumb Drive
Perfect for computer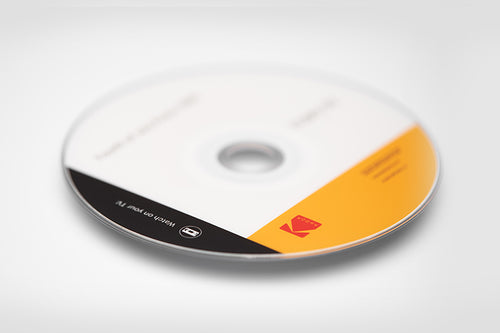 Disc Set
Perfect for computer
Kodak Digitizing Box
Starting at $69.99
Includes digital download
Frequently asked questions
You have questions.
We have the answers.
Fill your KODAK Digitizing Box with any brand of tapes, photos, film reels and audio. In a few weeks, you'll receive your conveniently converted memories on digital, DVD, or the cloud, along with your originals. Every KODAK Digitizing Box includes a welcome guide with simple step-by-step instructions, barcodes for tracking every item, and a prepaid UPS return shipping label.
Please allow approximately 10 - 12 weeks once we receive your filled KODAK Digitizing Box. Our exclusive tracking technology keeps you informed throughout the process with regular email updates, and our knowledgeable customer support team can answer any questions you have.
Digitized, ready-to-relive copies on your choice of Thumb Drive, DVD or Digital Download, as well as all your original media. All analog media is professionally digitized by hand in our state-of-the-art facility.
What can I get digitized?
Mix and match format types from VHS tapes to Super 8 film. We can digitize any brand of old analog media!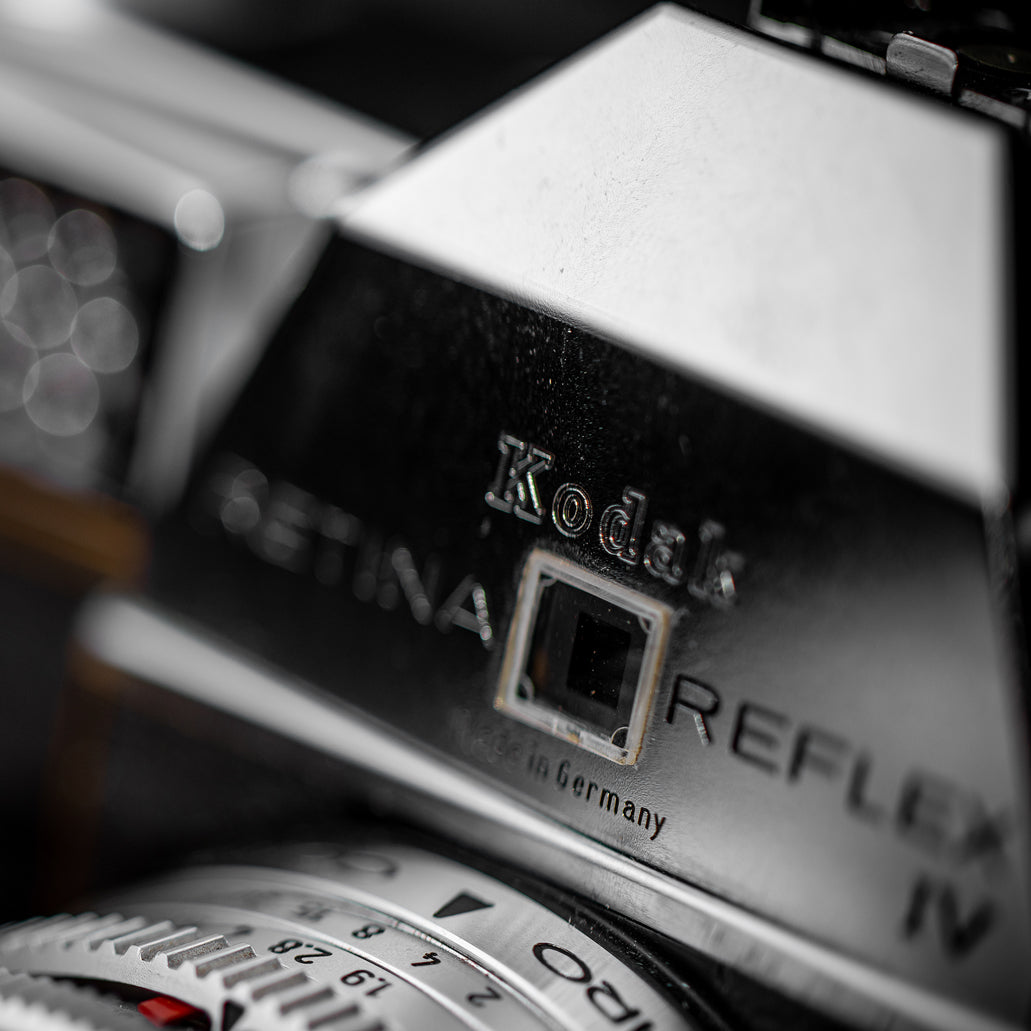 Hundreds of years of history
Quality runs in our DNA
Since 1888 Kodak has continued to invent and revolutionize photography and motion pictures. That historic tradition continues with the Kodak Digitizing Box. Following in the footsteps of millions who trusted Kodak to develop their film by mail, Kodak Digitizing Box offers mail-in digitizing for all brands of videotapes, film reels, slides, and printed photographs.
Get Started
16mm Film Transfer
Reel in the memories. Roll out the digital.
If your grandparents were tech savvy enough – or just overly nostalgic – then you may be lucky enough to have some 16mm film treasures hidden away.
As one of the earliest video film formats, 16mm was stored on reels, shown on projectors and was (you guessed it) 16mm wide. And being one of the original film formats to hit the public, it makes it priority number one for digitizing for two reasons:
For starters, film was a place to store your favorite movies and home recordings, but it was never meant to keep them forever. The technology wasn't future proof no matter how well you stored those reels. Think of it as if it was like a house to rent, and unfortunately for your memories, eviction is just around the corner. Secondly, do you even have a capable projector – let alone know where to easily find one? Didn't think so.
But, that doesn't mean all hope is lost when it comes to that old-school dose of nostalgia. Being one of the few film companies that was around before the creation of 16mm, we're well-versed in the technology's limits because we helped introduce it. And now, we're here to help you preserve it through our fast and easy digitization process.
Back in the early 20th century, when the movie industry was just taking off, 35mm film was the norm. The problem was it was expensive and the equipment cumbersome. Unless you had a movie lot and crew (which, clearly the average American family had neither), capturing moments on film was an unrealistic dream. But by 1923, Eastman Kodak (that's us!) released 16mm film as a more affordable amateur alternative to 35mm film. While Hollywood may not have been all that impressed, the smaller and less expensive 16mm film unlocked possibilities that once weren't attainable for home filmmakers, amateur photographers, artists, educators, travelers, business and the government, like being the exclusive film used to capture events in WWII. We even commissioned a 16mm Kodascope Library back in the mid 1900s that became one of the first "buy or rent" film models, helping promote the format (and other future film formats).
On top of all those various industry doors opening, 16mm was also a safer format than 35mm. It used acetate safety as a film base, whereas 35mm film used a nitrate base that made it a highly combustible format. Yikes!
While that history lesson may be intriguing, it still doesn't detract from the fact that your 16mm film's life is nearing expiration, but only if you let it. Instead, let our team of qualified film technicians bring your analog film into the digital world – to DVD, thumb drive or the cloud. We convert thousands of feet of 16mm film in our studio every day, making sure each frame is crisp, color adjusted and rendered the best it possibly can be. We may even discover that some of your 16mm film had sound that wasn't previously known. Just send us your reels in our pre-paid, crushproof and roundtrip shipping box, and we'll take care of the rest – literally, safely and carefully digitizing every memory packed into each and every frame. We'll even send you updates throughout the process, so you're never in the dark about what's happening. When we're done with our conversion process, we'll mail your original reels back along with the new digital formats.
Your 16mm film is an aging relic – don't let the moments of an unforgettable past fade away. Convert today!